Tokyo College of Sushi and Washoku
Learn the real 'sushi' and 'Washoku'!
School type

Location

Genres
Introduction of school
Registered as intangible cultural heritage by UNESCO, traditional Japanese cuisine, or Washoku, is attracting attention worldwide and today, it is expected to have an increase in demand. The industry is working hard around Japan to inherit the beautiful techniques and at the same time, protect the culture. Because of that, individuals with skills and efficiency in the kitchen are high in demand right now. At Tokyo College of Sushi and Washoku, students are trained to be future professionals with an eye to the great possibility in the industry and a tremendous understanding of the art of 'the real sushi and Washoku' sought worldwide.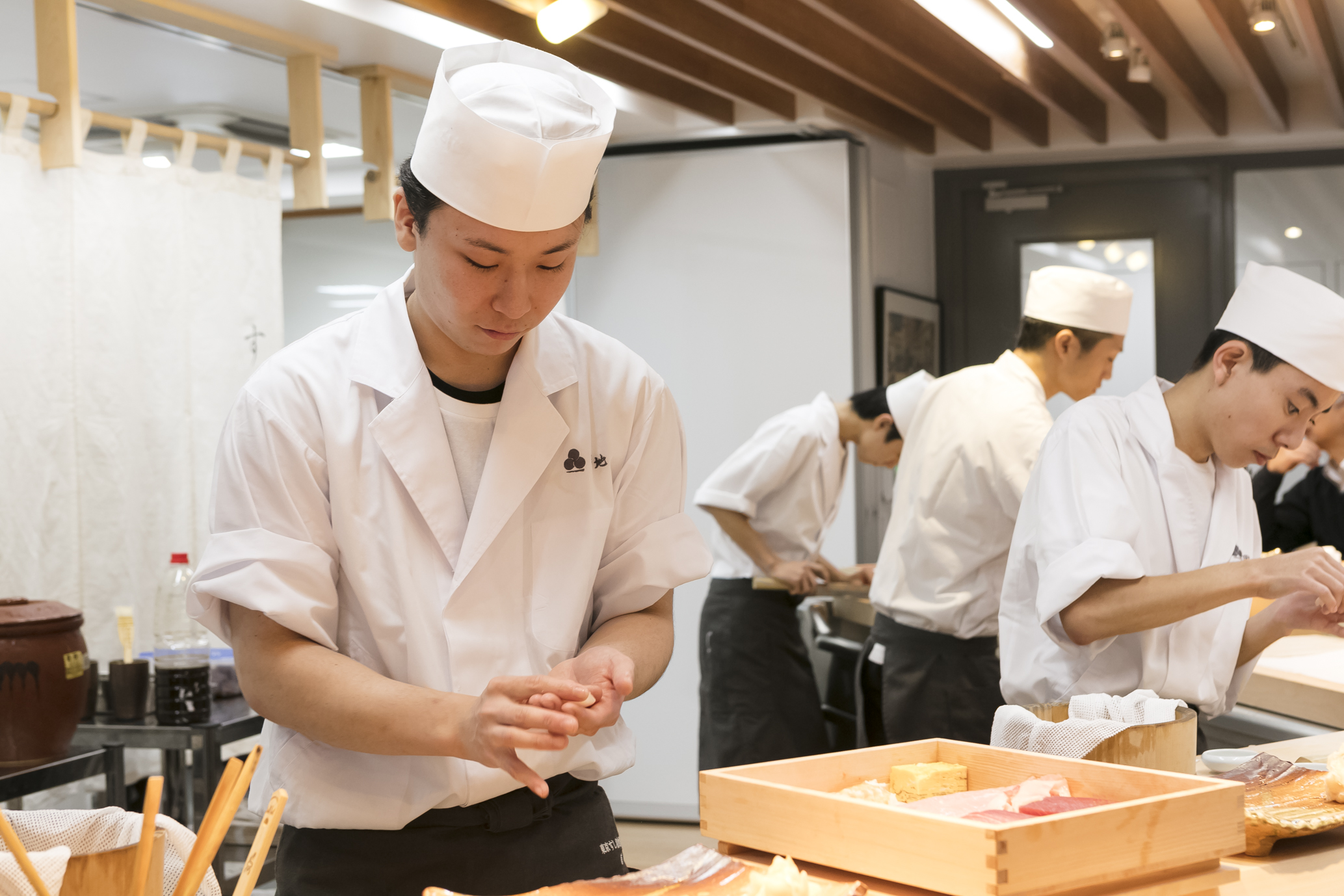 Features of school
Learn techniques to make Japanese cuisine

In Washoku Chef Course, students will learn everything about the techniques of creating Japanese cuisine starting from the five basic tastes (sweetness, spiciness, saltiness, bitterness, sourness) to basic colors (red, blue, yellow, white, black), and culinary methods (grill, simmer, steam, fry, raw) suitable for each menu according to each of the four seasons. After graduation, students have an opportunity to pursue a career as a Washoku chef.

Be a world-renowned sushi chef!

In Sushi Chef Course, students have the chance to learn various types of sushi starting from nigiri-zushi as the main followed by maki-zushi (sushi roll), oshi-zushi (pressed sushi), chirashi-zushi (sushi rice with seafood and other ingredients sprinkled on top), and more. Then, master a variety of culinary methods such as simmering, pickling, and broiling for different ingredients. With this, students can strive to be a world-renowned sushi chef.

Train your taste buds and be a great chef

Besides training to comprehend the light flavor and understand the slight difference in food textures, students will acquire knowledge on the five basic tastes and the taste of every condiment and basic ingredients. The training will be repeated until students are capable enough to distinguish the taste difference in each of the five basic tastes despite with a concentration lower than 0.1%.
Department, course
■Washoku and Sushi Course
・Washoku Chef Course(2 years, 60 students
・Sushi Chef Course(2 years), 30 students

・Advanced Chef Course(1 year)
※This course is available to students who have completed the 2-year program or equivalent.

Jobs that you can aim
Sushi chef
Washoku chef
Chef
Specialty chef

Qualifications that can be acquired
Careers and courses after graduation
La BOMBANCE
Shunsai Oguraya
IKINA SUSHI DOKORO ABE
La BOMBANCE
Shunsai Oguraya
IKINA SUSHI DOKORO ABE
Sushi Yoshitake
Sushisho Saito
Hankyu Hanshin Hotels Company
PRINCE HOTELS, INC
Yugawara
Sushi Hide Kishi
Kinugawa
SFP Holdings Co.
Information about dormitory, apartment
Student dormitories/real estate company available for help
Information about foreign students
International students admission
OK

Access
Name

Tokyo College of Sushi and Washoku

Address

〒154-0001
Tokyo2-30-14 Ikejiri, Setagaya-ku, Tokyo

Tel

0120-040-399

Stations

10-min walk from JR Yamanote line 'Shibuya Station'
1-min walk from Tokyu Denentoshi line 'Ikejiri Ōhashi Station'
Browse history