エスモード ジャポン[東京校](ESMOD JAPON (Tokyo))
A fashion institute with a history of 170 years that expands the methods tried by ESMOD Paris and trains students to be competent professionals.
School type

Location

Genres
Introduction of school
Established in 1841 in Paris, ESMOD is the world's first educational institution that specializes in fashion. ESMOD JAPON practices a curriculum that aims to train future professionals who will be ready to hit the ground running by combining ESMOD Paris's education system and methods with the school's very own original programs. Not only that, but the education also promotes the establishment of worldview and development of originality of each student with the help of teachers from Japan, France, and other countries.
In 2018, the school started practicing a more world-level education by establishing a new course that allows students to acquire international bachelor's. In 3-year courses, students get to enhance their comprehensive abilities through a thorough curriculum that educate everything from the basics to advanced and even the art of creation. This is where students can learn about designing, pattern, and sewing and acquire all the important knowledge and skills to be a successful professional in the fashion industry. In the 2nd year, students get to pick to major in either men's or women's wear. The general course for the experienced is open for individuals with experience in the fashion world (starting from basic education), and it helps to nurture future specialists within two years.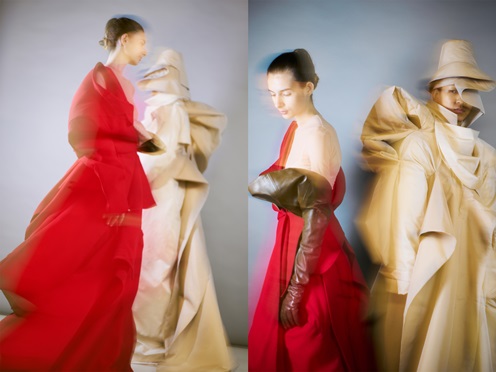 Features of school
Great achievement in students' employment with a rate as high as 98%

Every year, all ESMOD JAPON's graduates managed to pursue a career as designers, patternmakers as well as other named professions. The school has plenty of plans for job-hunting guidance while students are in their 2nd year such as holding gatherings where people from various companies and previous graduates are invited to socialize with its current students. For Fashion Business Department, the curriculum is developed with the ESMOD Paris's program as the foundation. It helps to train competent and versatile professionals through long training at actual working sites.

Aiming for the sophistication and globalization of fashion education

Established in 1841 in Paris, the school is the world's first educational institution specializes in fashion. ESMOD has an international network shared among various countries by having over 21 institutions in 14 different countries and thanks to that, the education system practiced in ESMOD continues to improve globally. The teachers in the institutions in Japan each have plenty of experience overseas, and classes carried out by foreign teachers come with translation/interpretation. For students who are interested in learning abroad, they can join the short-term exchange program to institutions overseas. Every year, ESMOD colleges in Japan welcome plenty of foreign students who come for the exchange program.

The start of international bachelor program in April 2018

April 2018 marks the birth of a new course called 'International Bachelor Program' that strives to nurture leaders for the next generation who will then be the pioneer of the fashion industry. This program which was made possible through the cooperation of Conservatoire national des arts et métiers (CNAM) allows students to acquire international bachelor's while studying in Japan. Besides knowledge and skills related to fashion, learn about financial planning, production management, trend analysis, strategic marketing, and others as well. The course is available for evening, Saturday, and online classes. So, this is a wonderful opportunity for career development while studying.
Department, course
■ Faculty of Creative Fashion (day classes) (140 students)
・Department of General Creative Fashion
┗ Period:3 years
・Study abroad department (Paris)
┗ Period:2 years + 1 year in Paris
・English department
┗ Period:3 years (1st & 2nd year in English, 3rd year in Japanese)
・Department of Fashion Technology
┗ Period:2 years

■ International Bachelor Program for Professional (30 students)
┗ Period:1 year, 3 times per week (evening/Saturday class)
※ Admission in April

■ Skill improvement course
┗ Period:1 year
・Evening course
Styliseur I /modelism I, II
・Saturday course
Styliseur I, II /modelism I, II, III/ buyer & merchandiser course

○Total number of students: 555 students
○Percentages of male & female student:  male- 40% female- 60%


Jobs that you can aim
Designer
Patternmaker
Stylist
Tailor
Press
Buyer
MD
VMD
Shop staff
Planner
Production management
Fashion editor
Promoter
General management
Fashion coordinator
Fashion producer
Press agent
Supervisor
Fashion trend consultant
Retail merchandiser

Qualifications that can be acquired
Pattern Making Skill Test
Fashion Business Proficiency Test
Fashion Color Proficiency Test

Careers and courses after graduation
AiiA Corporation
H. P. FRANCE
AMBIDEX Co., Ltd.
Adastria Co., Ltd.
ABAHOUSE INTERNATIONAL Co., LTD.
ISLAND CO., Ltd.
Atelier YOSHINO
A-net. Inc.
Itokin Co., Ltd.
Matsuo International Corporation
WORLD CO., LTD.
BAROQUE JAPAN LIMITED
MASH Style Lab Co., Ltd.
TOMORROWLAND CO., LTD.
MELROSE CO., LTD.
UNIQLO CO., LTD.
BAYCREW'S CO., LTD.
CAITAC INTERNATIONAL. INC.
Sanei-International CO., LTD.
Tokyo Style Co., Ltd.
FLANDRE CO., LTD.
DREAM Co., Ltd.
AS KNOW AS
45rpm studio co., ltd.
Kolor
Onward Kashiyama Co, Ltd.
DESCENTE, Ltd.
GOLDWIN INC.
Ray Cassin
LIDEA CO., LTD
SANYO SHOKAI Ltd.
MARUTAKA IRYO INC
ISSEY MIYAKE INC
COMME DES GARCONS CO., LTD.
Chacott
MIKIO SAKABE
YOHJI YAMAMOTO Inc
BIGI CO., LTD
JUN CO., LTD.
WACOAL HOLDINGS CORP.


Information about dormitory, apartment
Student dormitories are provided. Dormitories are separated for both male and female. Students get to choose whether they want meals to be provided or not, so those who live alone for the first time have nothing to worry about.
Information about foreign students
International students' intake
OK

Tuition fee exemption
Scholarship available

Countries of origin of foreign students
Australia, China, France, Russia, Korea, England, Finland, Vietnam, Cambodia, Canada, Thailand, Taiwan, America, Nepal, Indonesia, Malaysia, Myanmar, Mongolia

Access
Name

エスモード ジャポン[東京校](ESMOD JAPON (Tokyo))

Address

〒150-0013
Tokyo,3-29-6 Ebisu, Shibuya-ku,

Tel

03-5421-2232

Stations

8-minute walk from JR line 'Ebisu station' (Follow the east ticket gate, walk towards Ebisu Garden Place and take the Skywalk exit)
15-minute walk from Subway Hibiya line 'Ebisu station'