東京スイーツ&カフェ専門学校(Tokyo Sweets & Cafe Career College)
Become a professional in patisserie /cafe. Receive "Thank you" from others.
School type

Location

Genres
Introduction of school
«Learn sweets, breads, cooking and drinks and learn 400 recipes in 2 years! The university holds realistic store (cafe / patisserie) for practicing every week! »
The greatest appeal of our school is that you can learn sweets, breads, cooking and drinks at the first year! You can choose the major you would like to pursue from the Department of patisserie or Cafe in the second year. It will expand the range of employment chance.
On the first floor of the school building, there is a cafe training room with the latest equipment, and we sell sweets and breads made by students. Access is also excellent. It only takes 4 minutes from Hongo 3-chome, and 12 minutes from Ochanomizu on foot!

«Close to teacher! Reliable teachers»
Our school has a homeroom teacher system, and homeroom teachers support everyone from admission to graduation. Not only to school life, but also if there is troubles and anxiety in personal life. Feel free to contact
Us.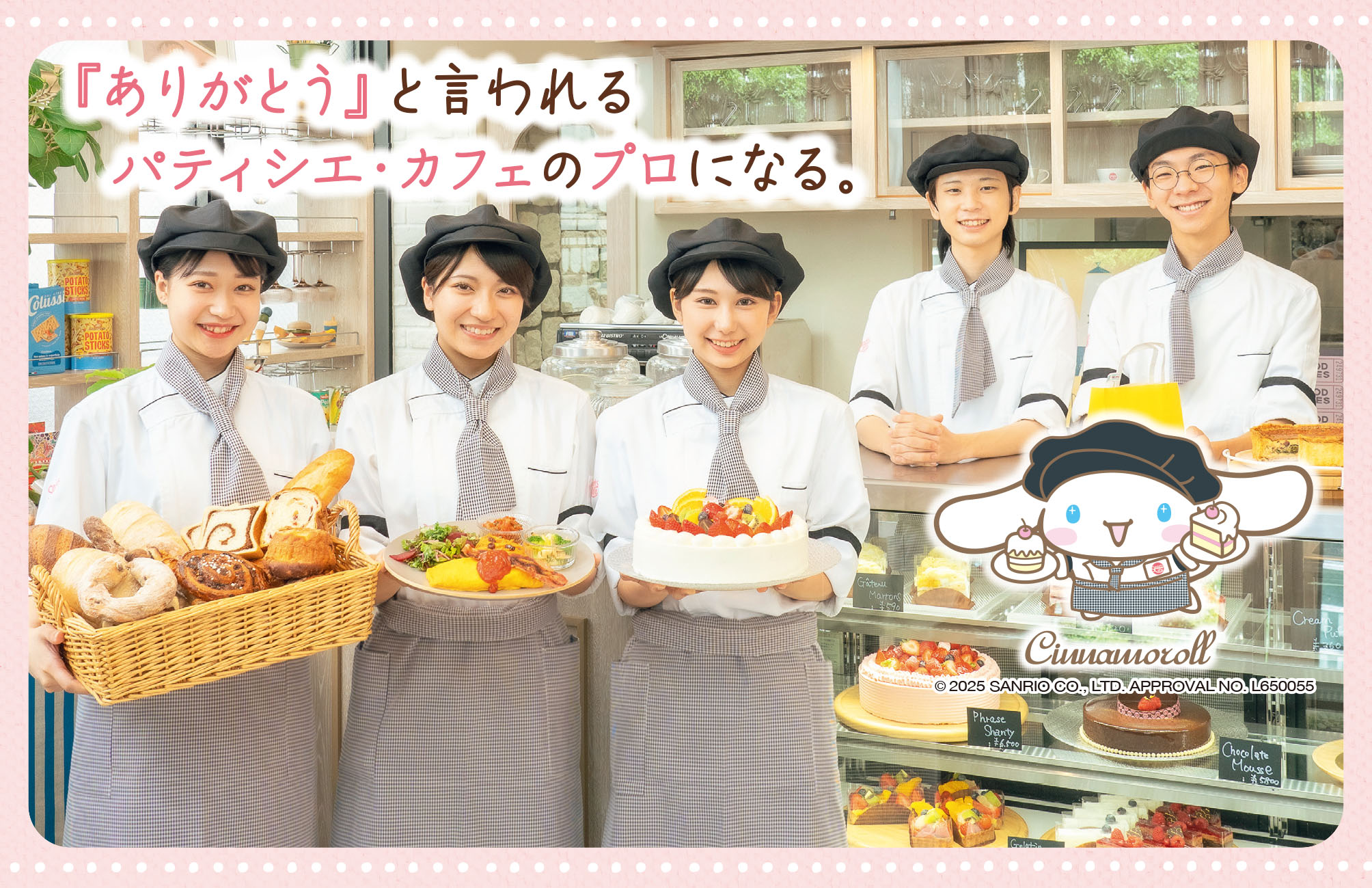 Features of school
Real store intern which you experience from planning to selling is held weekly!

The first floor of the school is a full-fledged cafe/patisserie store "cocotte " which is operated by students. Think about the needs of local customers, students take charge of themselves up to menu creation, costing, ordering, in-store display, production and hospitality. It is now a cafe, which has a good reputation and lots of fans. 300 pieces of pastry are sold out every time! Experience the unique impression of the work inside of school.

Approximately 90% of 2nd year class is practical! Learn 400 recipes!

With overwhelming practical hours of 1400 hours in 2 years, you will acquire certain skills. Especially in the second year, about 90% of the classes will be practical training, and by practice a wide range of menus in the lesson, you will become an immediate fighting force and active in the field. Our specialty is that our opportunities to further enhance the acquired knowledge and skills, such as store sales training and extracurricular activities inside and outside school, are rich! In addition, From class to practical training,
You will acquire the skills which are necessary for service or wrapping in the future,.

Events and corporate collaboration helps students acquire practical skills!

Corporate collaboration such as menu development with major companies such as Morinaga and diamond dining is enriched! There is also a menu development with the Pronto Corporation, and as for the creation with highest evaluation. It will be commercialized with about 300 shops in the country! Only Tokyo sweets & cafe can collaborate with companies for students to test their own real ability! Furthermore, it is the unique charm of our school that we can make wedding cakes for the event "Bridal Project" at the sister school Tokyo Wedding & Bridal College.
Department, course
■ Sweet Pastry Department(160 male & female)
· Patisserie major
· Cafe major
* In the first year you will learn sweets, pan, cafe, cooking and drinks through practice in general. In the second year you can choose the patisserie major or cafe majors.
Period: two-year system (daytime)
Tuition: ¥ 134 million (first year payment)
※ Excluding materials expenses etc.
Jobs that you can aim
patissier
Breadmaker Wedding pastry
Suites Planner
Food Coordinator
Confectionery hygienist
Pastry sales representative
Restaurants Chef
Varistor
Configurations
Chocolate craftsman (chocolatier)
Cafe owner
Cafe patissier
Bakery shop owner
Qualifications that can be acquired
Food hygiene personnel (Sapporo Food Hygiene Association)
Color test 1 ~ 3 level
Service Reception Test 1 ~ 3
Food coordination three
Packaging test
Dessert master, bread master certification
Dessert health personnel

Careers and courses after graduation
製菓製パン系 就職先】
東京ディズニーシー・ホテルミラコスタ(株式会社 ミリアルリゾートホテルズ)
株式会社 ベストプランニング
株式会社ピー・エス・コープ
株式会社 ブーランジェリーエリックカイザージャポン
スイーツパラダイス(井上商事 株式会社)
パティスリー カカオエット・パリ
キルフェボン(株式会社ラッシュ)
HARBS(株式会社 重光)
シェリュイ((株)日本ガストロノミー研究所)
有限会社 コートダジュール
株式会社 ハーブスグローイング
ラ・メゾン・ガトー・マサキ
株式会社 コムサ
シャンドワゾー
有限会社 バーゼル洋菓子店
株式会社 商業芸術
ジェラートピケ(株式会社 マッシュスタイルラボ)
リベルターブル
デイ・ナイト 株式会社
株式会社ハットトリック「ア・ラ・カンパーニュ」

【カフェ系 就職先】
パークハイアット東京(パークタワーホテル(株))
bills(トランジットジェネラルオフィス)
UCCフードサービスシステムズ 株式会社
株式会社ディーン&デルーカジャパン
株式会社 パレスホテル
株式会社サンマルクホールディングス
カフェ・カンパニー株式会社
フォーシーズンズホテル
株式会社 シェ松尾
株式会社HUGE
株式会社 RYコーポレーション
株式会社 キープウィルダイニング
ムーミンベーカリー&カフェ(ベネリック株式会社)
株式会社 オペレーションファクトリー
株式会社 エーディーエモーション
株式会社 クリエイト・レストランツ・ホールディングス
株式会社 WDI JAPAN
ル・ブルターニュ
株式会社 ポジティブ&ブレイン
株式会社 ニュートン
Information about dormitory, apartment
We provide student dormitory with meals that can live in safe and safe environment even for the first time living alone.
In addition, we also offer support for living, such as apartments and condominiums.
Information about foreign students
Accept Foreign students

Tuition reduction exemption system

Access
Name

東京スイーツ&カフェ専門学校(Tokyo Sweets & Cafe Career College)

Address

〒113-0033
Tokyo,Bunkyo-ku,Hongo 3-43-9

Tel

0120-358-312(Free Dial) 03-5842-6878

Stations

4 minutes on foot from Toei Subway Oedo Line "Hongo Sanchome Station"
5 minutes on foot from Tokyo Metro Marunouchi line "Hongo Sanchome Station"
6 minutes on foot from "Yushima Station" on Tokyo Metro Chiyoda Line
12 minutes on foot from JR "Ochanomizu Station"