東京スイーツ&カフェ専門学校(Tokyo Sweets and Café Career College)
Be a café & confectionary professional appreciated by all
Introduction of school
<>
One of the biggest attractions of Tokyo Sweets and Café Career College is that students get to learn all the basics in the first year from confectionary to bread-making, culinary, and beverage-related. After learning everything in general, students can pick the course of their choice based on their interest in the second year.
At the first floor of the fully equipped school building, you will find a café practice room resembling an actual café. Here, students make and sell confectionary and bread handmade by themselves. The college is easily accessible with a 4-minute walk from Hongo Sanchome or a 12-minute walk from Ochanomizu.

<>
As the college provides small-sized classes with specific teachers assigned to each class, students have the chance to communicate one on one with the same teacher from the day they start until graduation. Not only school related, but students are also free to ask the experienced teachers for help with anything!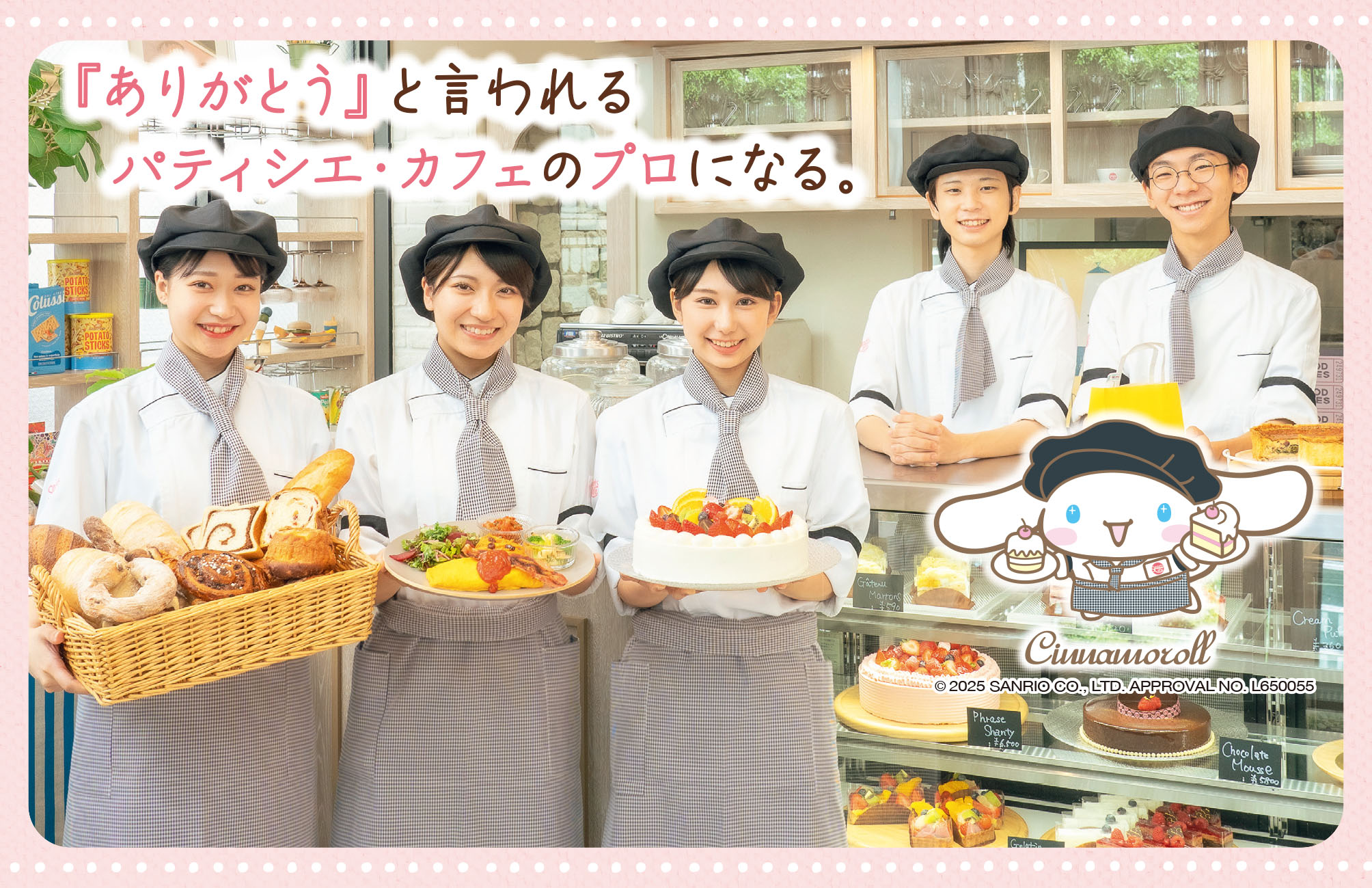 Features of school
Practical lessons in an actual café every week and learn everything from planning to sales!

At the first floor of the fully equipped school building, there is an actual café/ patisserie called 'cocotte'. Everything in the café is managed by the school from the menu to cost accounting, order placement, interior display, production, and customer service by putting the local customers' needs into consideration. Today, it has become a popular café with long queue formed by local fans. Every time, over 300 pastries are sold out! This is where students get to experience the emotion of working in an actual café together with friends.

95% of classes in the second year consist of practical training! Master over 400 recipes!

With over 1400 hours of practical training in two years, no doubt students will be able to master the right skills. Especially in the second year, 95% of the curriculum consists of practical training and seminars. Therefore, students get to learn a wide selection of menus during class and at the same time, master useful skills and learn to be spontaneous and ready all the time. Only at Tokyo Sweets and Café Career College, students have the opportunity to improve the knowledge and skills gained from practical lessons in café and indoor/outdoor extracurricular activities. On top of that, learn important skills such as customer service and gift-wrapping skill thoroughly starting from lecture to practical lessons, so that it will be useful in future career.

Plenty of events and collaboration projects with various companies!

The college offers a wide selection of collaboration projects with big companies such as menu development with Morinaga & Company or Diamond Dining! For the menu development project with Pronto Corporation, the popular dish will be introduced in over 300 stores all over Japan. Put your skill to test through collaboration projects with companies while still in school. Not only that, students here can take part in an event called 'Bridal Project' held by Tokyo Wedding & Bridal College and create an actual wedding cake. This indeed is a perfect chance to challenge yourself.
Department, course
■Department of Sweets Patisserie(male & female- 160 students)
・Patissier course
・Café food course
※In the first year, students will learn everything from the basics from confectionary to bread-making, café-related, culinary, and beverage. Then in the second year, students get to pick to major either in Patissier course or Café food course.
Period:2 years(day class)
School fees:1,340,000 yen(payment for the 1st year)
※Fee for learning materials and other expenses are not included

Jobs that you can aim
Patissier
Boulanger
Wedding patissier
Sweets planner
Food coordinator
Confectionary hygiene master
Vendeuses
Restaurant chef
Barista
Confiserie
Chocolatier
Café-owner
Café patissier
Bakery-owner

Qualifications that can be acquired
Food hygiene manager license (Sapporo Food Hygiene Association)
Test in Color Coordination, grade 1-3
Customer service proficiency test, grade 1-3 (The Institute of Jitsumu Ginou Kentei)
Test for food coordinator (grade 3) (Food Coordinator Association Japan)
Test in gift wrapping (Japan Wrapping Association)
Certified confectionery maker (national)/Certified baker (national), grade 2
Confectionery Hygiene Master license (occupational licensing)


Careers and courses after graduation
[Place of employment for graduates of Patissier course]
TOKYO DISNEYSEA HOTEL MIRACOSTA (MILIAL RESORT HOTELS Co., Ltd.)
BEST PLANNING INC.
PSCOOP
Boulangerie Eric Kayser Japon Inc.
SWEETS PARADISE (INOUE CORPORATION)
Pâtisserie Cacahouete Paris
Qu'il fait bon
HARBS (SHIGEMITSU CO., LTD.)
Chez Lui (Laboratoire de la Gastronomie)
La Cote d'Azurl
HARBS GROWING
La maison du gateau MASAKI
Company Cafe comme ca
Chant d'Oiseau
BASEL
Commercial Art Inc.
gelato pique (MASH Style Lab Co., Ltd.)
Libertable
DAY・NITE
HAT TRICK [à la campagne]

[Place of employment for graduates of café food course]
Park Hyatt Tokyo
bills (TRANSIT GENERAL OFFICE INC.)
UCC Foodservice Systems Inc.
DEAN & DELUCA
PALACE HOTEL CO., LTD.
SAINTMARC HOLDINGS CO., LTD.
Cafe Company Inc.
Four Seasons Hotels and Resorts
Chez Matsuo Co., Ltd.
ENTERPRISE Huge Co., Ltd.
RY Corporation Inc.
KEEP WILL DINING CO., LTD.
Moomin Café (BENELIC CO., LTD.)
OPERATION FACTORY, Inc.
A.D.Emotion Co.,Ltd
create restaurants holdings inc.
WDI JAPAN
LE BRETAGNE
POSITIVE BRAIN CO., LTD.
NEWTON CORPORATION


Information about dormitory, apartment
To ensure all students who just started living alone can live in a safe environment, the college offers a student dormitory with meals provided.
Besides that, it also provides support and help for students who wish to look for another apartment or place to stay.

Information about foreign students
■International students admission
OK

■Tuition fee exemption
Available

Access
Name

東京スイーツ&カフェ専門学校(Tokyo Sweets and Café Career College)

Address

〒113-0033
Tokyo,3-43-9 Hongo, Bunkyo-ku,

Tel

0120-358-312

Stations

4-minute walk from Subway Toei Oedo Line 'Hongo Sanchome Station'
5-minute walk from Tokyo Metro Marunouchi Line 'Hongo Sanchome Station'
6-minute walk from Tokyo Metro Chiyoda Line 'Yushima Station'
12-minute walk from JR Line 'Ochanomizu Station'