辻学園 調理・製菓専門学校(Tsuji Gakuen Culinary & Confectionery college)
Learning with fun & achieving my dream. Japan's first cooking school.
School type

Location

Genres
Introduction of school
«Tsuji Gakuen is Japan's first cooking school.
Based on the tradition of 100 years, we enhance each person's skill precisely with small group. »

Tsuji Gakuen which is opened as the first cooking school in Japan. We celebrate its 100th anniversary in 2017. Until now, we had a lot of graduates into the industry, accumulating trust and achievements. It is also the unique charm of our school that we can provide guidance that suits you perfectly. Every instructor is a specialist in the field of cooking and confectionery.

Special enrollment system which exempts up to 1 million yen tuition fee in 2 years, enriches the system to support tuition fee payment such as Sanko Gakuen initial cost reduction & tuition fee splitting system which allows you to pay school fee by installing scholarships!
School buildings equipped with great facilities. We have structures and environment that make everyone learn satisfactorily ☆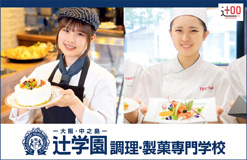 Features of school
Small classes · practical curriculum

Tsuji Gakuen sets up a small-class system, practical training curriculum, even a beginner will instruct by professional teacher carefully from the basic of cooking. We also opened a special lesson inviting the chefs of famous shops and chefs and pastries of various cuisines. We constantly refine our knowledge and skills by learning cutting-edge information and technology.

Free Material! Skill up with self-practice

Mostly in the morning and after school, the school provides practice rooms and materials for self-practice to acquire techniques and knowledge that they want to enhance themselves. Because the teacher is also attached, you can get guidance from one on one and boost your skills.

Learn advanced skills! Special classes you can choose!

We offers free special seminar "Tsuji Academy ". By acquiring a variety of seminars such as dynamic cooking, decorative cutting, ice carving, etc. Using high-end ingredients that you don't usually cook with. Therefor you can acquire even higher knowledge and skills. Also, it is one of the big appeal that you can take classes cross the department. For example, from the department of cooking, confectionery, confectionery department to cooking.
Department, course
■ Cooking department (200 people)
An annual fee of 320,000 yen will be paid as education and training expenses
Our school received certification from the country in "Specialized Practical Education and Training Designation Course".
Applicants are those who have been employed in the industry for over 2 years.
Duration: 1 year
Tuition: 1,680,000 yen (first year payment)

■ Advanced cook course (160 people)
Duration: 2 years
Tuition: 1,680,000 yen (first year payment)

■ Confectionery Pastissie Department(40 people)
Duration: 1 year
Tuition: 1,680,000 yen (first year payment)

■ Confectionary Meister Department (40 people)
Duration: 2 years
Tuition: 1,680,000 yen (first year payment)

※Excluded educational materials etc.
Jobs that you can aim
Chef / cook
Cooking researcher
A pastry
Baker
Japanese sweets craftsman
Japanese chef
Buckwheat craftsmen
Sushi craftsman
Chocolatier
Confectionery hygienist

Qualifications that can be acquired

Cooking license (national qualification), puffer fish handling registration certificate · puffer fish processing certification, professional cooker · cooking skill qualified certification, NPO Japanese food education instructor grade 3, Restaurant service technician class 3 certified by Ministry of Health, Labor and Welfare, Food skills & Management specialist (2 years only) Other

Confectionary hygiene professor license (national qualification) * In case of one year system, you can obtain only the examination qualification. Business ability examination job pass 3 grade, color test and others

Sixth Industrialization Food Producer Lv.2

Careers and courses after graduation
調理系学科就職先】
株式会社 ロイヤルホテル
株式会社 帝国ホテル
株式会社 阪急阪神ホテルズ
株式会社 ケイクール(リュミエール)
株式会社 美濃吉
株式会社 花外楼
株式会社 ヴァリエ
株式会社 なだ万
ホテルオークラ アムステルダム
ホテルオークラ台北
㈱大阪つる家
神田川
株式会社 ひらまつ
株式会社 ゼットン
株式会社 南海グリル
有限会社 広島ホテルマネジメント
株式会社 西村屋フーズコム
中国料理 桃谷楼
大和リゾート 株式会社
株式会社 穂の河

【製菓系学科就職先】
株式会社ミリアルリゾートホテルズ(ディズニーアンバサダーホテル)
ホテルユニバーサルポート
ANAクラウンプラザホテル大阪
伊丹シティーホテル株式会社
株式会社RICOTTA
ラポーズ
パティスリーフリアン
パティスリージョーカー
ノースランド
ガトードボワ
パティスリータマノ
パティスリーショコラ
麦の穂
GREEN CAFÉ

Information about dormitory, apartment
We provide student dormitory with meals that students can live in comfortable and safe environment even for people who live alone for the first time. In addition, we also offer extra support for living, such as apartments and condominiums.
Information about foreign students
Foreign students Accepted

Tuition reduction exemption system Applicable

Access
Name

辻学園 調理・製菓専門学校(Tsuji Gakuen Culinary & Confectionery college)

Address

〒530-0047
Osaka,Ōsaka-shi, Kita-ku, Nishitenma, 1−3−17

Tel

0120-86-1593 (free dial)

Stations

Keihin-son Line · Subway Sakaisuji Line "Kitahama Station" Exit No. 26 Exit a 3-minute walk to the north
Subway Sakaisuji Line / Subway Tanimachi Line "Minamimorimachi Station" · JR Tozai Line "JR Osaka Tenmangu Shrine Station" 4-B Exit 7 minutes on foot
Keihan Nakanoshima Line "Naniwa Bridge Station" Exit 3 and 2 minutes on foot
15 minutes on foot from Yodoyabashi Station exit 1 on the Midosuji subway subway