辻学園 調理・製菓専門学校(Tsuji Gakuen Culinary & Confectionary College)
The first ever culinary school in Japan- follow your dreams and have fun learning!
School type

Location

Genres
Introduction of school
<<Tsuji Gakuen- the first culinary school in Japan. With a long history and tradition of 100 years, Tsuji Gakuen provides a fun environment that helps to improve every student's skills.>>

In 2017, Tsuji Gakuen celebrated its 100th anniversary as the first ever culinary school in Japan. Till today, the college has been producing many graduates who found a career in the food industry, and it has accomplished a great achievement and reliance from the industry. Every student will receive proper guidance which fit each one of their criteria well from a group of professional teachers from each culinary/confectionary field.

Not only that, but the college also offers plenty of tuition fee exemption programs! For example, apply for the 'Tsuji Gakuen 100th Anniversary Scholarship' that exempts a total up to 1,000,000 yen in two years. The scholarship is open for any student as long as he/she has a strong passion for having a career in the culinary/confectionery industry. Besides that, students also have a chance to apply for Sanko Gakuen's first-semester tuition exemption and enjoy the benefits of installment payment plan.
The fully equipped school building offers a perfect system and environment for everyone to learn in.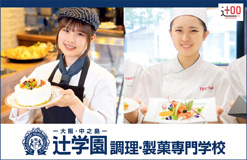 Features of school
Small classes and curriculum based on training

As Tsuji Gakuen practices curriculum mainly based on practical training and small-sized classes, even beginners can learn everything about culinary starting from the basics one on one with a professional lecturer. The college also occasionally invites famous head chefs, owner-chefs, and patissier for different cuisines and hold special lectures. By practicing the latest skills and learning the latest information all the time, students can definitely improve their knowledge and skills.

Practice all you want! A great backup system for cooking ingredients only at Tsuji Gakuen!

To encourage students to master knowledge and improve skills, the college provides training rooms and plenty of cooking ingredients for students to practice on their own in the morning or after school. As teachers would be present as well, this will be a wonderful opportunity for students to ask for one-on-one guidance and improve their skills. And because of that, many students have won the first prize in every competition.

Acquire advanced skills through special classes!

Besides regular classes, the college also holds a free special seminar called 'Tsuji Gakuen Academy'. Learn how to make captivating cuisines with high-end ingredients, decorative cut, ice carving, and many more. With these different seminars, students can master even better skills and acquire more advanced knowledge. Besides that, students from the culinary course can participate in classes of confectionary course and vice versa as well.
Department, course
■General Culinary Course (200 students)
Period:1 year
School fees:1,280,000 yen(payment for the 1st year)

■Advanced Culinary Skills Course(160 students)
Period:2 years
School fees:1,280,000 yen(payment for the 1st year)

■Confectionery & Patisserie Course(40 students)
Period:1 year
School fees:1,280,000 yen(payment for the 1st year)

■Confectionery Meister Course (80 students)
Period:2 years
School fees: 1,280,000 yen (payment for the 1st year)

※ Other expenses such as training fee and fee for learning materials are not included.

~Major in two different courses in Double License Course and enjoy exemption of entrance fee and a 50% discount for tuition fee!~
Tsuji Gakuen established a new course called 'Double License Course' specially for those who want to acquire various qualifications but also want to save money on school fees. During re-admission to school, entrance fee will be exempted, and tuition fee will be discounted to half-price. So, this is the perfect course for those who want to acquire various qualifications but pay less.

Jobs that you can aim
Cook
Cook (chef, cook, a cook who is skilled in Japanese cuisine)
Soba chef
Sushi chef
Café owner
Restaurant/banquet hall staff
Hotel restaurant staff
Bartender
Sommelier
Culinary researcher
Patissier
Boulanger
Japanese pastry chef
Chocolatier
Confectionery Hygiene Master
And many more


Qualifications that can be acquired
<culinary>
National chef license
Registration of Fugu Handling/ Certification of completion of Fugu Handling
Qualification to exempt expert chef & culinary technician course examination
NPO Japan food education instructor, grade 3
Restaurant Service Certified Skilled Worker, grade 3
Management in food technology (only for those who study in a 2-year course) and many more

<Confectionary>
Confectionery Hygiene Master license (national)
※ For those who study in a 1-year course, they can only get the qualification for examination.
Business skills proficiency test (grade 3, grade 2)
Test in color coordination

<Both>
Sixth-order industry food producer (level 2)

Careers and courses after graduation
[Place of employment for graduates of culinary course]
RIHGA ROYAL HOTELS
Imperial Hotel
Hankyu Hanshin Hotels Company
K-coeur Co., Ltd. (lumière)
Minokichi
Kagairo
VARIE. Co., Ltd.
NADAMAN CO., LTD.
Hotel Okura Amsterdam
Hotel Okura Taipei
OSAKA TSURUYA
Kandagawa
Hiramatsu Inc.
zetton Inc.
Nankai-Grill
Hiroshima Hotel Management
Nishimuraya FC
TOKOKUTO. CO., LTD.
DAIWA ROYAL HOTEL
Honokawa Corporation

[Place of employment for graduates of confectionary course]
Milial Resort Hotels Co., Ltd. (Disney Ambassador Hotel)
Hotel Universal Port
ANA Crowne Plaza Osaka
ITAMI CITY HOTEL
RICOTTA
La Pause
Patisserie FRIAND
Patisserie JOKER
NorthLand Corporation
Gateau Des Bois
Patisserie Tamano
Patisserie Chocolat
Muginoho
GREEN CAFÉ


Information about dormitory, apartment
To ensure all students who just started living alone can live in a safe environment, the school offers a student dormitory with meals provided.
Besides that, it also provides support and help for students who wish to look for another apartment or place to stay.

Information about foreign students
■ International students admission
OK

■ School fees exemption
Available

[Application eligibility]
・ Must be at least 18 years of age (as of March 31, 2019)
・Have completed at least 12 years of formal education in Japan or overseas, or who have been designated by the Minister of Education, Culture, Sports, Science, and Technology to have completed an equivalent amount of education.
・Able to point to personal accomplishments in sports, interests, volunteer activities, studies, working experience or other areas.

<<Applicants must meet one of the following criteria:>>
・Have passed level N2 or higher for the Japanese Language Proficiency Test administered by the Association of International Education of Japan.
・Have achieved a score of at least 200 points on the Examination for Japanese University Admission for International Students (in Japanese Language).
・ Have achieved a score of at least 400 points on the BJT Business Japanese Proficiency Test.
・Have enrolled at an educational institution that teaches Japanese language to foreigners (Japanese Language Institution) in Japan approved by the Minister of Justice for at least six months with an attendance rate of at least 80%.

[Appllication deadline]
■International students admission with the exemption of school fees
First application: 1st August 2018 – 10th October 2018
Second application: 15th October 2018-14th November 2018
Third application: 19th November 2018- 20th February 2019

[Examination day]
First examination: 13th October 2018 (Saturday)
Second examination: 17th November 2018 (Saturday)
Third examination: 23rd February 2019
Access
Name

辻学園 調理・製菓専門学校(Tsuji Gakuen Culinary & Confectionary College)

Address

〒530-0047
Osaka1-3-17 Nishitenma, Kita-ku, Osaka-shi,

Tel

0120-86-1593

Stations

3-minute walk from Keihan Main Line/Osaka Metro Saikaisuji line 'Kitahama Station' (go north from exit 26)
7-minute walk from Osaka Metro Sakaisuji line/Tanimachi line 'Minamimorimachi Station' OR JR Tozai line 'JR Osaka Tenmangu Station' (exit 4B)
2-minute walk from subway Nakanoshima line 'Naniwabashi Station' (exit 3)
15-minute walk from Osaka Metro Midosuji line 'Yodoyabashi Station' (exit 1)