Hollywood University of Beauty & Fashion
May Ushiyama's comprehensive beauty & fashion- The pioneer of beauty college with 92 years of establishment history
School type

Location

Genres
Introduction of school
Hollywood University of Beauty & Fashion is a vocational college/graduate school in Roppongi Hills which emphasizes on education that expands from just beauty to comprehensive beauty from various fields.
Since its establishment 92 years ago, Hollywood, the film capital has always been the center of fashion. We are the first ones to pick up the latest trends of beauty and fashion including hair, make-up, and nail art in Hollywood and spread them all over Japan. We also take pride in nurturing angels of beauty that help guide people to happiness and exquisiteness.
So, learn and master all practical skills related to hair, make-up and fashion at a place equipped with the latest facilities and make use of them for your future career.
*Comprehensive beauty is the trademark of Hollywood University of Beauty & Fashion.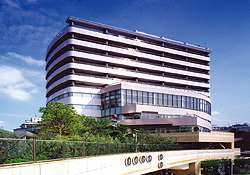 Features of school
Long history and tradition

The pioneer of beauty business. Established 92 years ago, this school provides curriculum that revolves around beauty and fashion.

Appealing curriculum

The school helps to nurture professional skills related to fashion and comprehensive beauty including hair, make-up, manicure and many more.

Scholarships and merits for school fees available

The school provides thorough support that helps students feel at ease studying at Hollywood University of Beauty & Fashion.
Department, course
■Department of Beauty
・Postsecondary course (day classes):2 years (360 students)
・Advanced postsecondary course (day classes):4 years (40 students)
・Correspondence course:3years (240 students)

■Department of Fashion & Comprehensive Beauty
・Postsecondary course(day/night classes):2 years (80 students)
Beauty advisor course
Esthetician course
・Postsecondary course (day classes): 1 year (for international students)
Qualifications that can be acquired
Beautician license (national)
JMA make-up qualification test
Ajesthe Facial Beauty Therapist Certificate
Caregiver license
Test in color coordination
Ajesthe certified esthetician
CIDESCO INTERNATIONAL ESTHETICIAN
JNA manicurist skill test
Cosmetician qualification test
SBS make-up director qualification test (grade 1 & 2)
SBS manicure director qualification test (grade 1 & 2)
SBS esthetic director qualification test (grade 1 & 2)
JNA gel nail skill test (beginner, upper-class)
Eyelash diploma
Careers and courses after graduation
kakimoto arms
ZA/ZA
TAYA
SHIMA
GARDEN
MINX
KENJI
ZACC
L'Oréal
HATSUKO ENDO
Access
Name

Hollywood University of Beauty & Fashion

Address

〒106-8541
Tokyo,Roppongi Hills Hollywood Plaza, 6-4-1 Roppongi, Minato-ku

Tel

0120-08-339

Stations

A quick walk from Roppongi station (Hibiya Line) exit 1C, 3-minute walk from Roppongi station (Edo Line) exit 3
6-minute walk from Nogizaka station (Chiyoda line) exit 5
8-minute walk from Azabu-juuban station (Namboku line) exit 4
1-minute walk from Roppongi bus station with Toei Bus 01 (Towards Shibuya/Shimbashi)
A quick walk from Roppongi Hills bus station with Minato-ku Chii Bus (Towards Tamachi station/Akasaka Mitsuke station) (100 yen)