あいち造形デザイン専門学校(Aichi Zokei Design College)
Improve your skills with Industry-academia collaboration class and various design competitions!!
Introduction of school
Aichi Zokei Design College was established in 1983. One of its special features is that it practices homeroom class system and there are plenty of teachers who have their very own clean-cut personality. Besides that, the school also has teachers who also work as professionals in their respective fields and famous cartoonists as well as illustrators to be the super advisors for students. For the classes, students will be required to take part in a 1-month training class called "basic study" in which they first learn about the basics. Not only that, they will be also be able to join lessons which are collaborated between the school and industries. In these classes, they will have the chance to experience the real work through assignments that they receive from various companies as well as shops. Students can also challenge themselves and take part in various kinds of competitions. As the teachers provide each one of the students with advices and tips for their production/work, many of th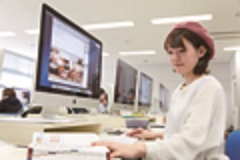 Features of school
Special class by top professionals who represent Japan

Top creators such as famous cartoonists-Murakami Motoka, animation art producer- Masuyama Osamu and illustrators- Ichihara Jun will be providing students with direct guidance as super advisors. Besides being able to learn more about production tips, skills, drawing techniques, ways to use various tools as well as the latest topics in the industries, students also have the chance to hear about the professionals' experiences. In a class taught by top professionals, work critics as well as guidance will be given directly which will help students to be more passionate while in class.

"Industry-academia collaboration class"- Brush up skills with the help of real work experience. Improve your practical skills through the collaboration with companies!

Aichi Zokei Design College carries out "industry-academia collaboration class" in which students get to experience doing real work through the assignments that they receive from various companies, public organizations as well as self-governing bodies. With the order-taking, orientation, arrangements, planning, intermediate check, presentations and other works they go through which are similar to the work they can expect to see in the future, they will be able to improve their practical skills. Plus, the chosen work will be used by the companies, so this actually helps in motivating students as well as providing self-confidence and happiness. With this, they will have many more advantages during job-hunting.

Challenge on various competitions, compete with more than 20 different productions and win many prizes!

The teachers encourage public advertising to invite students to display their works such as posters, illustrations and original characters in various fields as a part of the practical education practiced there. A student usually produces more than 20 different art works within a year on average. Besides being able to find the unnoticed potential in themselves, students can also gain confidence when they manage to win prizes or when they receive good evaluations from professional creators.
Department, course
■Department of Graphic Design(40名)
・Graphic & advertising course
・Computer graphics course
Period: 2 years
School fees: 1,150,000 yen(payment for the 1st year)

■Department of Design Produce(40 students)
Period: 2 years
School fees: 1,150,000 yen(payment for the 1st year)

■Department of Illustration(40 students)
・illustration course
・comic art course
Period: 2 years
School fees: 1,150,000 yen(payment for the 1st year)

■Department of Manga(40 students)
Period: 2 years
School fees: 1,150,000 yen(payment for the 1st year)

■Department of Aesthetic Design(40 students)
Period:2 years
School fees:1,150,000 yen(payment for the 1st year)

■Research Studies(40 students)
Period:1 year
School fees: 680,000 yen
Jobs that you can aim
POP creator
CG animator
Plan designer
Advertising planner
Display designer
Event producer
Artist
Game character designer
CG artist
Game creator
Game character designer
Animation producer
Cartoonist
Sculptor
Stage staff

Web director
Editor
CM planner
Digital editor


Qualifications that can be acquired
Proficiency test in lettering
Test in color coordination
Practical teacher qualification for vocational school
Graduation certification from junior college (for students who participate in collaborated distance learning)

Careers and courses after graduation
MIC Group
AICHI PRINTING CO., LTD.
ROKUMENDO CO., LTD.
TSUGUYA Group Holdings Ltd.
IBRAIN
I-Order
CHUCO Co., Ltd.
Pamouna
Kashiwagikou
Aming Co., Ltd.
As-me ESTELLE CO., LTD.
C-POWER, Inc.
CADISH
Furukawa Jyushi Kougyou Co., Ltd.
MSK WORKS
Furukawa Jyushi Kougyou Co., Ltd.
JUN CO.,LTD
SAKAI
Sea Cloud Ltd.
Maruho Kogei
Oritoshi
NX Inc.
M.CRAFT Co., Ltd.
Kobou Cavau
D-style Nishikawa Co., Ltd.
Chubu Sealing Printing CO., LTD.
Design Kukan MAKE
STUDIO LUNA
Impact Taki Co., Ltd.
NIHON SAMPLE
MAXIS EDUCATION
Kitanihon Printing
Brain Computer Co., Ltd.
Pleasure Kikaku Limited Company
Yokota Printing Service Co., Ltd.
ARAI DESIGN
Morinaga
OKADA Co., Ltd.
ROYAL CORPORATION
WAKAO STAGE CRAFTS CO., LTD.

Information about dormitory, apartment
We introduce our students "Kakuozan students' apartment house" managed by Denpa Gakuen Group as well as other dormitories and apartment houses suitable for students which are safe and convenient for them to commute to school.
For students who are interested, please enquire within the school in order to get the related documents.
Location: 8 minutes walk away from subway Higashiyama line "Kakuozan station" exit 4.
It is 2 stations away from Aichi Zokei Design College (5 minutes)
Facilities: kitchen, unit bathroom, laundry space, air-conditioner, balcony, auto lock system
TEL:0800-111-0510(free dial)

Information about foreign students
International student admission
OK
Tuition fee exemption
Available

No. of students from foreign country
China- 1 student