東放学園音響専門学校(TOHO GAKUEN Sound Technology College)
Training future professional staffs in the world of concerts, music and sound effect with the help of practical training classes which resemble the real professional sites.
School type

Location

Genres
Introduction of school
TOHO GAKUEN first started off as the education division of TBS Television.
As a school that specializes in the training of future professional staffs in the music scene, students are able to enjoy learning everything they need to know about work related to the world of music. For example, the school prepares various practical training classes involving concert production for students including providing a chance for them to participate in "SUMMER SONIC", the biggest music festival in Japan as concert staffs, holding the school's original event "LOVE!LIFE!LIVE!" that features artistes of various genres and many more. Recognized as "the school that was born from the entertainment world", TOHO GAKUEN has established its very own education system that encourages students to learn and gain experience from companies in the music industry through internships.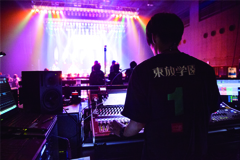 Features of school
Hold a real live concert and learn everything about concert production

TOHO GAKUEN provides plenty of chances for students to produce and hold concert with their own hands. This allows students to learn to play different roles behind the production. For example, students from Acoustic Technology Department will participate as sound editors while students from Acoustic Media Department will be responsible for the production of a concert. Events such as "LOVE! LIFE! LIVE!" and also the "concert production practical/concert for graduation production" in which students are required to plan, book and sell tickets on their own are help as an opportunity for students to gain knowledge and skills. Not only that, students who participate in "SUMMER SONIC", Japan's well-known summer music festival as support staff members are also able to gain reliable skills.

Experience working in companies in music industry while still in school through internship program!

With the collaboration from companies in music industry such as music production companies, recording studios and live houses, TOHO GAKUEN is able to provide internship program for its students to learn and experience working in companies while still in school. By following the office regulations of the company and by completing the task given, it will be a great opportunity for them to gain valuable experiences which could not be gained from school. There are also cases in which students are offered employment after completing their internship program.

Plenty of TOHO GAKUEN's graduates who are currently playing active roles in the music scene!

The school has produced many graduates who are currently actively involved in the music industry. As they would offer plenty of employment information to the school, they are considered as one of the reasons why TOHO GAKUEN manages to produce many graduates who are able to get a career in the music industry. Besides that, the school has a number of instructors who work on the front lines as professionals in the music scene. Cases in which students get introduced to a job directly from instructors are also something common in TOHO GAKUEN.
Department, course
■Acoustic Technology Department(238 students)
Period:2 years(day class)
School fees:1,383,610 yen(payment for the 1st year)

■Acoustic Media Department(160 students)
Period:2 years(day class)
School fees:1,383,610 yen(payment for the 1st year)

Jobs that you can aim
Concert PA system engineer
Operator related to hall acoustic
Roadie
Recording engineer
Mastering engineer
Manipulator
MA mixer engineer
Foley artist
TV sound operator
Radio mixer engineer
Recording engineer
Sound designer
Stage sound designer/planner
Sound operator for wedding
Concert production staff
Concert promoter
Stage director
Live house staff
Ticketing staff
Artiste manager
Artists and repertoire division staff
Music producer
Tour promoter
Music director
Recording director
Editor for music magazine
Editor for websites
Music writer
Fan club staff
Production staff
Music copyright management staff
Artistes' goods production staff
Website administration manager

Qualifications that can be acquired
JPPA Certificate for video sound processing engineer
JAPRS sound recording skill certification test
JAPRS Pro Tools skills certification test
Stage mechanism control skill test
Special radio operator for on-the-ground services license (level 1)
Intellectual property management skill test
Examination of Copyright Proficiency for Practical Business
DTP proficiency test
Information processing skill test
Business skill proficiency test (B type)
Secretary skill test
Japanese type-writing skill test

Careers and courses after graduation
Sony Music Artists
Avex Group Holdings Inc.,
Amuse, Inc.
UP-FRONT GROUP Co., Ltd.
LDH Inc.
Stardust Promotion Co., Ltd.
Johnny's Entertainment Inc.
Sound Inn Studios Inc.
Pia Corporation
SOGO TOKYO
Hibino Corporation
MIXER'S LAB
Horipro Inc.
Yoshimoto Kogyo Co., Ltd.
SHINJUKU LOFT
SHIMOKITAZAWA SHELTER
Takarazuka stage Co., Ltd.
JVC Kenwood Victor Entertainment Corporation
CREATIVEMAN PRODUCTIONS CO., LTD.
DISK GARAGE CO., LTD.
Oorong-Sha Co., Ltd.
VASC
CLUB CITTA' and many more

Information about dormitory, apartment
【Male dormitory】
・Dormy Hibarigaoka/ 6-3-7 Sumiyoshi-cho, Nishi Tokyo-shi, Tokyo ※soundproof room available

・Dormy Keio Tamakawa/ 3-39-1 Tamakawa, Chofu-shi, Tokyo

・Dormy Toda 2/ 300-1 Niizo, Toda-shi, Saitama
And many more

【Female dormitory】
・Dormitory Motohasunuma/ 1-26-6 Maenocho, Itabashi-ku, Tokyo

・Dormitory Kamishakuji/ 1-9-46 Sekimachiminami, Nerima-ku, Tokyo

・Dormitory Inokashira Park/ 4-2-34 Mure, Mitaka-shi, Tokyo
and many more

Access
Name

東放学園音響専門学校(TOHO GAKUEN Sound Technology College)

Address

〒151-0071
Tokyo,Shibuya-ku,Tokyo Honcho 4-20-7

Tel

0120-343-261

Stations

7 minutes walk away from Toei Oedo line "Nishi-shinjuku go-chome station"

Branches

1 minute walk away from "Honcho 4-chome" bus station. (Exit from Shinjuku station west exit and take the Keio bus at bus stop no. 17 that aims for Eifukucho, Koseikai Seido Mae)