東放学園映画専門学校(TOHO GAKUEN Film Training Techniques College)
Training the creators of next generation for films, music video, animation and novels
School type

Location

Genres
Introduction of school
TOHO GAKUEN first started off as the education division of TBS Television.
The school has produced quite a number of graduates who are actively involved in the television and movie industry including Tsutsumi Yukihiko (director of "Trick" and "SPEC"), Yukisada Isao (director of "Five Minutes to Tomorrow"), Ide Naomi (character designer & chief animation supervisor of "Akuma no Riddle"), Aoshima Toshiaki (cinematographer of "FAIRY TAIL") and many more. During classes, students will be given guidance directly from a team of creators who work on the front lines in each respective field. Not only that, they will also be able to learn and master the techniques and skills required with the help of the latest equipment and facilities which resemble the ones used by professionals.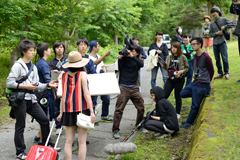 Features of school
Guidance by professionals from movie industry! Gain reliable skills and learn about team effort which will be useful at the professional sites.

Classes provided mainly involved practical trainings of movie production. During these classes, cameras and equipments which resemble those used in major movie production sites are used to assist the learning process. Students will be given guidance during practical trainings directly by Kashima Tsutomu (director of "25 NIJYU-GO") as well as other staffs who are currently work on the front lines as professionals in the movie industry. By experiencing the real movie production processes with the help from a team of instructors who are also professionals, students have the chance to acquire professional skills required on the front lines. Not only that, they will also be able to learn about team effort which is needed in a movie production.

Learn everything about animation production

As an effort to raise future versatile talents, the school provides curriculum that covers all the knowledge and skills needed to finish a production of an animation. Through such curriculum, students will be able to learn about different roles and work involved behind the production of an animation including the role of an animator, animation director, CG creator as well as the work of presenting, photographing and completing an animation. Besides generally learning about animation production, students are also given the opportunity to gain knowledge and acquire skills that fit their own interests.

"STAR", contests information search system which can also be used in smartphones!

With the help of "STAR", TOHO GAKUEN's very own contest information search system, students are able to check information about video or novel-writing contests collected by the career support center. Information can be viewed using computer or even smartphones. Many of TOHO GAKUEN's students have taken part in various contests and plenty of them even got the chance to debut in the industry of their interest.
Department, course
■Film Production Department(72 students)※
Period:2 years(day class)
School fees:1,383,610 yen(payment for the 1st year)

■Promotion Movie Department(36 students)※
Period: 2 years(day class)
School fees:1,383,610 yen(payment for the 1st year)

■Animated Image Department(36 students)
Period:2 years(day class)
School fees:1,383,610 yen(payment for the 1st year)

■Creative Writing Department(36 students)
Period:2 years(day class)
School fees:1,383,610 yen(payment for the 1st year)

■Digital Image Researching Department(30 students)
Period:1 year(night class)
School fees:930,900 yen(payment for the 1st year)                                          

※There will be changes to the no. of students intake in 2016(pending)

Jobs that you can aim
Movie director
Photographer
Lightning technician
Recording engineer
Editor
Scenario writer
Script writer
Production staff
Movie producer
Music video director
Advertisement director
Title background creator
Music program director
Graphic designer
Video editor
Cameraman
Lightning staff
Animator
Animation director
Character designer
Illustrator
Production manager
Anime staging staff
Animated filmmaker
Animation colorist
Animation color stylist
Cinematographer
CG creator
Novelist
Light novel writer
Cartoonist
Game scenario writer
Writer for magazine
Editor

Qualifications that can be acquired
JPPA Certificate for video sound processing engineer
Examination of Copyright Proficiency for Practical Business
CG Creator Certification Test
Information design test
DTP proficiency test
Japanese type-writing skill test
Business skill proficiency test

Careers and courses after graduation
IMAGICA DIGITALSCAPE Co., Ltd.
IMAGE STUDIO 109,INC
MTV Networks JAPAN
OMNIBUS JAPAN INC.
KADOKAWA CORPORATION
Sony PCL Inc.
VASC
Sunrise Inc.
Pierrot Co., Ltd.
Toei Animation Co., Ltd.
SEP, inc.
TYO Inc.
Oricon Entertainment Inc.
M-ON! Entertainment Inc.
inup Co., ltd.
Office Crescendo Inc. and many more

Information about dormitory, apartment
【Male dormitory】
・Dormy Hibarigaoka/ 6-3-7 Sumiyoshi-cho, Nishi Tokyo-shi, Tokyo ※soundproof room available

・Dormy Keio Tamakawa/ 3-39-1 Tamakawa, Chofu-shi, Tokyo

・Dormy Toda 2/ 300-1 Niizo, Toda-shi, Saitama
And many more

【Female dormitory】
・Dormitory Motohasunuma/ 1-26-6 Maenocho, Itabashi-ku, Tokyo

・Dormitory Kamishakuji/ 1-9-46 Sekimachiminami, Nerima-ku, Tokyo

・Dormitory Inokashira Park/ 4-2-34 Mure, Mitaka-shi, Tokyo
and many more

Access
Name

東放学園映画専門学校(TOHO GAKUEN Film Training Techniques College)

Address

〒160-0023
Tokyo,Shinjuku-ku,Tokyo Nishi-Shinjuku 5-25-8

Tel

0120-343-261

Stations

Situated beside A1 exit of Toei Oedo line "Shinjuku go-chome station"