Tokyo Belle Epoque sweet & Cooking College
Make new delicious foods you have never seen before!
School type

Location

Genres
Introduction of school
IN this Belle Epoque cooking college`s aims to become a chef, pastry chef, and barista who create not only the basics of making delicious food, but also the ability to shape ideas and ideas, and create new delicious food that only you can produce.
Tokyo Disney Resort® Official Hotel and other famous hotels, popular restaurants, and hot cafés will teach classes. By conducting classes in collaboration with companies, you will acquire knowledge, technology, and sensibilities together with the food industry. It's delicious and you can make cute and gorgeous dishes.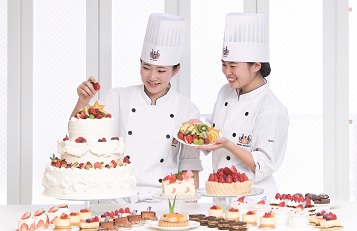 Features of school
Polishing technology in 150 industry per year Refine your skills through collaboration

Collaboration classes with popular resort hotels in the Maihama area, which are possible because of Tokyo Belle Epoque cooking college which is linked to education with Tokyo Disney Resort® official hotels, and collaboration with top chocolate brands that attract patissiers from around the world.
By learning from pros from popular companies and shops that are currently active, you can learn directly from professionals how to produce new delicious foods you have never seen before.


Belle Epoque students live on one out of 10 students!

In this school Safe support is available for living alone, such as student dormitories and partner in the hostel !
・ Kasai area has many shopping streets, many shops, easy access to the city center and easy to live.
Easy to go to school because it is close to the school!
・ Even in the unlikely event of a poor physical condition, we can provide reliable support that is unparalleled, such as reliable medical support, Total Support Center where specialist staff can consult, and single living seminars!
It is easy to live and has many friends. "Kasai area" becomes the second local area ! !


Belle Epoque cooking college is linked to companies and industries, so you can find a job!

Belle Epoque cooking college has collaborated with many hotels and shops from regular classes, so it is also strong for employment(working job)! In addition to being able to acquire the necessary skills after finding employment through daily classes, you can meet many shops, so you can find the shops you want to work for and the future image you want. There are many graduates who have decided to work at the store where they actually came in class.
Department, course
● Department of pastry chef (2-year system) (Capacity: 36)
Recommended for those who want to learn a wide range of cake making, from cakes, breads and chocolates!

● Confectionery Cooking Course (2-year system) (Capacity: 72 people)
Recommended for those who want to learn both food and sweets!

● Cooker Course (2 years) (Capacity: 36)
Japanese cuisine course
Recommended for those who want to learn Japanese cuisine

● Café Business Department (2-year system) (Capacity: 36 people)
Recommended for those who want to learn a wide range of drinks, sweets and food

Jobs that you can aim
Pastry chef / baker (Branje Boulanger) / confectionery staff / confectionery hygienist / Japanese confectioner / chocolatier / cooker / chef (chef / cook / in front) / cafe staff / barista / cafe owner / food coordinator
Qualifications that can be acquired
Confectionery Hygienist / Cooker / Food Hygiene Manager / Commercial Wrapping Examination Grade 3 / Visual Food Creator Examination / Food Coordinator Grade 3 / A / F / T Color Examination Grade 3 / Service Service Examination Grade 2/3 Grade / Food Technology Management Specialist / JESC Communication Skill Improvement Test
Careers and courses after graduation
Sheraton Grande Tokyo Bay Hotel, Hilton Tokyo Bay, Hotel Okura Tokyo Bay, Sunroute Plaza Tokyo, Tokyo Bay Maihama Hotel Club Resort, Serial Resort Hotels, Oriental Hotel Tokyo Bay, Shinjuku Takano, Monet Bakery & Cafe, Best Inc. Planning, Hiramatsu Co., Ltd., Ukai Co., Ltd., Tokyo Coffee Co., Ltd., Doutor Coffee Co., Ltd.

Information about dormitory, apartment
◆ Choose from 19 different types of dormitories!
◆ Choose between meals and self-catering!
◆ With furniture, you can live immediately!
◆ Resident dormitory and dormitory resident / administrator patrol is safe!
◆ All girls' dormitories are self-locking and have separate baths and toilets!

Information about foreign students
■ International student acceptance status
Possible

■ Number of students by country / region
China, Vietnam, Nepal, etc.

《Point》 Let's use Japanese cuisine specific activity visa support!
Japanese cuisine specific activity visa support is support for obtaining a specific activity visa that is necessary for the "Japanese cuisine overseas extension human resource development project" certified by the Ministry of Agriculture, Forestry and Fisheries. By obtaining this visa, you will be able to learn while working at a Japanese restaurant for up to 5 years.

In addition, it has become possible to work in restaurants and patisseries due to the resident status of [specific skills] expanded from April 2019.

If you are thinking about working visa and job in Japan, please contact us.

Access
Name

Tokyo Belle Epoque sweet & Cooking College

Address

〒134-0083
TokyoEdogawa-ku,Nakakasai 4-2-5

Tel

0120-080-332

Stations

Tokyo Metro Tozai Line "Nishikasai Station"
1 minute walk from the 1st school building north exit
7 minutes on foot from the 2nd school building north exit