専門学校東京ネットウエイブ(Tokyo Net Wave)
A vocational school specializing in evolving game and anime!
School type

Location

Genres
Introduction of school
■ For those who love games and anime!
If you wish to make the things that you love into your future career, the school will help to make your dream come true.

■Show your skill to the people in the industry!
In TNW, the education focuses on the next-generation technology. Students are able to participate in various activities in different fields such as application development together with companies, exhibition in Tokyo Game Show, taking part and winning in illustration competition AKIBA 2013 and many more.

■Collaboration between departments and courses
Students and teachers in TNW communicate well with each other and they accept and approve each other's talents. Plenty of collaboration activities between students from different departments and courses are also carried out from time to time.

■Employment rate of 100%!!
Students who wish to look for job in Japan ar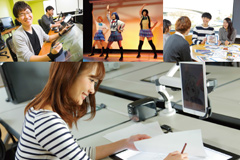 Features of school
Employment rate of 100%! Job follow-up system and a job-guaranteed system

With the help of a curriculum which helps in raising students to be future professionals who fit the demand of respective industries, the employment rate of the school is 100%! Besides that, students will receive thorough support even after graduation until they found a job. Free extra classes and open training room enable students to work on their production as well. On top of that, support for reemployment and job change is also provided for graduates.

Small-size class and private guidance for employment

In TNW, class teachers and career support staffs work hand in hand to help each one of the students during job-hunting including introducing the most suitable job, helping with students' portfolio, interviews, advice for examination, occasional counseling and many more. Plus, to ensure that each student gets thorough guidance, each class is made to contain a small number of students. The school creates an environment where both the teachers and students maintain a close relationship and motivate each other.

Plenty of achievements for internships and industry seminars

The school has an internship system in which students get to experience working in the real professional working sites. Learning and working together with professional creators can help to bring inspiration and motivation when they are producing their own work. Besides that, the school also invites recruitment staffs from various companies so students will have the chance to ask about work and employment in respective companies. They are also occasions in which students get the special chance to apply for jobs, bringing them the chance of employment.
Internship host:
Square Enix, From Software, ORATTA, BTD STUDIO, h.a.n.d., SE Mobile and Online, BottleCube, OLM Digital, DIGITAL GARDEN, R-FORCE ENTERTAINMENT and many more

Department, course
■General game department
• Game promotion major
*game streamer course
*game writer course
• Game project major
• Game illustrate major
• Game 3D CG major
• Game programmer major
• Game movie major
• Game sound major
Duration: 2 years
Tuition: 1,247,000 yen (Tuition for the first year)

■General Animate Department
• Animation major
• Animator major
• Animate character major
*illustrate course
*figure course
*cosplay course
*comic course
• Animate CG major
• Animate voice actor major
• 3CG.VFX major
• Animate sound major
*animate MA. recording course
*compose course
Duration: 2 years
Tuition: 1,247,000 yen (Tuition for the first year)
Jobs that you can aim
Game creator
Game planner
Game scenario writer
Game character designer
Game designer
Game graphic designer
Game 3DCG modeler
Game motion designer
Game sound creator
Game advertising/business
Game event program management
Game producer
Game director
Game magazine writer
Game promotion planner
Tester/debugger
Animator
Character design
Graphic designer
CG designer
3DCG artist
Visual image director
Digital paint staff
Motion designer
VFX artist
Effect artist
Film compositor
Sound director
Anime sound supervisor
Careers and courses after graduation
Asobimo Co. Ltd.
ArtePiazza Co. Ltd.
colopl Co. Ltd.
tri-Ace Co. Ltd.
FromSoftware Co. Ltd.
Klab 有Co. Ltd.
Khara Co. Ltd.
Shirogumi Co. Ltd.
Madhouse Co. Ltd.
A-1 Pictures Co. Ltd.
Information about dormitory, apartment
The school provides students with student apartments and dormitories.
For students who plan to live in the student apartments, the reservation will start in October and students can pay the rent in April.

Information about foreign students
Available. The special foreign student's scholarship offers exemption of school fees worth of 300,000 yen.
Access
Name

専門学校東京ネットウエイブ(Tokyo Net Wave)

Address

〒151-0051
Tokyo,Shibuya-ku,Sendagaya 1-8-17

Tel

0120-65-6226

Stations

3 minutes walk from JR Sendagaya station
3 minutes walk from Oedo line Kokuritsu Kyogijo station
7 minutes walk from Fukutoshin line Kitasando station